Quick Avocado and Sardine Spread
Ingredients:
1 ripe avocado
1 tin sardines
1 tablespoon sauerkraut
Chop sauerkraut into smaller pieces.  Mash all ingredients together. For a smoother spread, use a liquidiser or food processor. Spread on crackers or wholemeal toast.
This recipe is rich in healthy fats and has the added benefit of beneficial lactic bacteria from the sauerkraut.
Variations: Add chives or scallions
Versatile Seed Spread
This is a handy recipe for breakfast or a snack rich in essential fatty acids , minerals and other valuable nutrients.  You can have it ready in the time it takes to make toast! It is enormously versatile, as you will see below.
Ingredients for basic recipe:
1 Tbsp ORG mixed seeds of your choice  (sunflower, sesame, flax, pumpkin, chia)
1/2 tub Clearspring Organic  fruit puree of your choice
2 slices of bread of your choice (wholemeal, spelt or gluten free)
Put your bread in the toaster.  Grind the seeds in a coffee grinder.  Add enough fruit puree to make a spreadable paste.  Spread generously.
That's it!  No grinder? Try ground almonds, milled linseed and/or chia seeds.
Variations:
Add any or all of the following before grinding:
1/2 tsp coriander seed
2 whole green cardamoms
2 whole cloves
1/2 tsp fennel seeds
1 in of a cinnamon stick
For extra nutritional value, you can also add, after grinding the seeds:
1 tsp lecithin granules
1 tsp Eskimo-3 oil
Use your imagination to create other variations.
Cauliflower & Chia Soup

Ingredients
1 cauliflower cut into small pieces
2 celery sticks, chopped
1 medium onion, finely chopped
2 Marigold stock cubes
1 litre boiling water
2 tbsp milled Chia seeds
1 tsp Herbes de Provence
1 tbsp olive oil or coconut oil
2 tbsp crème fraîche or soya cream
Sea salt and freshly ground black pepper
Fresh parsley to garnish
Method
Saute the onions in  olive or coconut oil in a saucepan  for 5 minutes. Add the cauliflower and celery pieces. Make the vegetables stock by adding the 2 stock cubes to the boiling water. Add it to the`saucepsan with the Herbes de Provence. Bring to the boil. Simmer for about 15 minutes. Add the ground chia seeds and blend well. Mix in the crème fraîche or soya cream. Season to taste.
The result A lovely thick, creamy cauliflower soup with Omega 3. Serve with a sprinkling of parsley.
Serves 4
Spiced Dahl Soup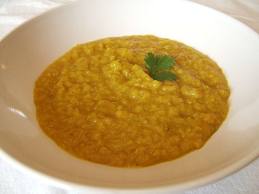 Ingredients
For the spice paste

2 medium onions, roughly chopped
3 large garlic cloves
a piece fresh ginger the size of your thumb, roughly chopped
2 red chillies, trimmed
1 tbsp ground coriander
1 tsp ground cumin
2 tsp turmeric powder
1 tsp ground cinnamon
2 tbsp hot water
For the soup

3 tbsp olive oil
350g red split lentils
1.4 litres boiling water
3 Marigold stock cubes
400g can chopped tomatoes
For the coriander cream

6 tbsp crème fraîche
6 tbsp fresh coriander, chopped
Coriander sprigs to garnish
Sea salt and freshly ground black pepper to taste
Method
Rinse the lentils and soak for 30 minutes.
Put all the paste ingredients into a food processor and process to a rough paste.
Heat the oil in a large saucepan and fry the paste for 5 minutes, stirring continuously.
Add the rinsed lentils and tomatoes. Make the stock by combining the stock cubes and boiling water. Add to the other ingredients.
Bring to the boil. Cover and simmer for 30-40 minutes, stirring frequently until the lentils are tender but still whole.
Add a little water if the soup becomes too thick. Season to taste.
Meanwhile make the coriander cream by mixing together the crème fraîche, chopped coriander and seasoning.
Divide the soup between the individual serving bowls and add a generous spoonful of coriander cream.
Garnish with the sprigs of coriander.
Serves 4
Coriander Hummus with Crudites
1 tin of organic chick peas
1 garlic clove
Juice of ½ lemon
1 tbsp dark Tahini (Meridian or Sunita organic)
2 tbsp sunflower oil
Sea salt & freshly ground black pepper to taste
A little water
1-2 tbsp finely chopped coriander
Vegetables cut into thin strips such as carrots, celery, cucumber, red pepper, scallions… Also cauliflower and broccoli florets.
Method
Place the chick peas in a food processor with the garlic clove, lemon juice, tahini (adjust quantity to taste) and the sunflower oil.
Add as much water as is needed to achieve a stiff mayonnaise consistency.
Add the chopped coriander and season to taste.
Serve as a dip with the vegetable strips.
Hummus can also be served with crackers, on oatcakes, rice cakes or bread, in pitta breads with salad leaves.
Variation
Try a little pesto instead of coriander.
Lentil Bhajia

Ingredients
450g/1lb green lentils
1 small onion, finely chopped
1 spring onion, finely chopped
2-3 green chillies, finely chopped
A small bunch of coriander, finely chopped
1 small clove garlic crushed
Sea salt to taste
Oil for frying
Method
Soak the lentils overnight or at least 3 hours. Drain, rinse and grind to a rough purée in a food processor. Do not blend into a fine paste.
Add all the chopped ingredients with sea salt to taste and mix well with a wooden spoon.
Separate into small balls and deep fry the mixture for 3-4 minutes.
Drain on kitchen paper and serve hot with coconut or mango chutney.
Serves 6
Bean and Seaweed Salad

Ingredients
2-3 tbsp dried sea spaghetti
1 tin organic Butter Beans
1 tin organic Mixed Beans
½ tin organic Sweet Corn
4-5 scallions
1 red pepper
1 tsp cider or rice vinegar
1 tsp tamari sauce
The dressing
4 tbsp olive oil
2 tbsp rice vinegar
1 tbsp tamari sauce
1 clove garlic
Method
Cover sea spaghetti with water and add 1 tsp cider or rice vinegar and 1 tsp tamari sauce. Bring to the boil and simmer for 10 minutes.
Chop the scallions, including the green tops.
Dice the pepper.
Drain and rinse the beans and sweet corn and combine with the spring onions and red pepper.
Bruise the garlic clove (press it under the blade of a knife) and mix it in a jar with the other dressing ingredients.
Drain the sea spaghetti and snip it into shorter strands if desired. Add it to the salad. Add the dressing when serving.
This salad tastes better well chilled and keeps well refrigerated for a day or two.
Serves 4-6 
This is a colourful, tasty bean salad that you can make quickly. Sea spaghetti is an Irish product rich in minerals including calcium and iron and is visually appealing. 
Quinoa and Goat's Cheese Salad

Ingredients
200g quinoa (white, red or mixed)
2 cardamom pods
1 cinnamon stick
250g cherry tomatoes, halved
A handful of fresh mint leaves chopped or 1-2 tsp dried mint
1 aubergine, cut into circles
1 yellow pepper, cut into quarters
150g soft goat's cheese, crumbled
Juice of half a lemon
Olive oil
Sea salt and black pepper
Method
Heat the grill to high.
Place the aubergine slices and yellow pepper on a baking tray and brush generously with some olive oil.
Grill for 20-30 minutes turning and brushing with more oil halfway, until browned and softened. Set aside to cool.
Meanwhile rinse the quinoa, place in a saucepan with the cardamom pods and cinnamon. Cover well with water, bring to the boil, simmer for 12-15 minutes and drain well.
Place the tomatoes, mint and goat's cheese in a bowl. Add a drizzle of olive oil, the quinoa and the lemon juice.
Dice the aubergine and pepper and add to the salad.
Season to taste.
Serves 4
Lentil loaf
50g Puy lentils
125g Red split lentils
1 small onion, chopped
1 large carrot, chopped
2 celery sticks, chopped
3 cloves garlic, crushed
¼ fresh chilli, chopped
1 heaped tsp ground cumin
50g breadcrumbs
75g Cheddar, Emmenthaler or soya cheese
75g roasted hazelnuts or cashew nuts
3 eggs, beaten
Sea salt and freshly ground black pepper
A little butter or olive oil for sautéing
Method
Cover the Puy lentils well with water and allow them to steep for at least half an hour.  Drain and  rinse them and cover again with fresh water and simmer  for 20 minutes or until tender.   Cook the red lentils separately for 8 minutes.
Drain both lentils and mix into a bowl.
Sauté all the vegetables in butter or olive oil until cooked but still crisp. Add the spices.
Add to the lentils along with the breadcrumbs, cheese, nuts, beaten eggs, salt and pepper.
Bake in an oiled 900g/2lb loaf tin  at 150°C, 350°F, gas mark 4 for 45 minutes.
Serves 4-6
Serve this cold with chutney or hot with passata to which you add salt, pepper and a pinch of ground cumin.
Quinoa and Cashew Nut Roast
120 g quinoa
1/2 tsp Marigold powdered vegetable stock
100 ml water
2 tbsp butter or coconut oil
1 large onion, diced
2 large cloves of garlic,minced
60 g wholemeal or gluten-free breadcrumbs
225 g cashew nuts
3 tsp mixed herbs
Sea salt and freshly ground black pepper to taste
Method
Rinse the quinoa  and cover with twice its volume of water in a saucepan .
add ½ tsp Bouillon vegetable stock powder. Cover, bring to the boil and simmer gently for approximately 12 minutes.
Melt the butter/coconut oil in a frying pan, add the onion and sweat for 5 minutes. Add the garlic and sweat for a further 5 minutes, stirring regularly.
Preheat the oven to 200°C, gas mark 6.
Grind the cashew nuts in a food processor. Place into a mixing bowl with the breadcrumbs, the cooked quinoa, the onion, garlic,  herbs and seasoning.
Mix well, then add the vegetable stock and stir until mixed.
Grease a 450 g/1 lb loaf tin. Spoon the mixture into the tin, pressing down so it is well distributed and dot with a little butter or coconut oil. Bake for 30-40 minutes.
When the roast is done, leave it in the tin to cool for a few minutes before removing and cutting it.
Serves 4
This quinoa and cashew roast can be served with steamed or roasted potatoes and green beans in tomato sauce (sweat some diced onion and garlic, as per the recipe above; add some steamed green beans, Herbes de Provence and a tin of Biona organic cherry tomatoes, sea salt and black pepper for a delicious accompaniment).